Rose
Def
Roles:
Intel Crowd Control Secure
Speed: Medium
Armor: Medium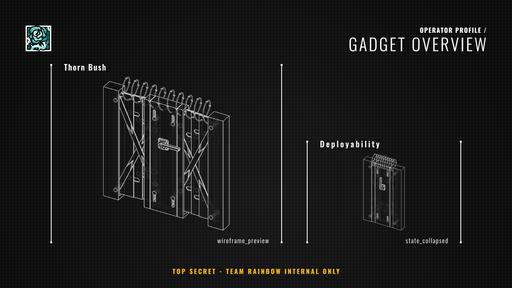 Unique Abilities and Playstyle
Gadget: Thorn Bush
Rose's Thorn Bush is a fortification which deploys to form a half-wall, providing solid cover. Similar to a deployable shield, it can be placed freely or in a doorway. However, it is wider than a regular shield, allowing it to span wider areas such as a small hallway. Apart from providing cover for defenders, it can also be used to impede attackers – the integrated barbed wire forces attackers to vault over it slowly, putting them at risk and making noise at the same time.
The device can be destroyed using methods similar to a deployable shield, including Sledge's hammer and Maverick's Suri Torch.
Loadout
Primary:
X95 SMG/X95 9mm
M870 Wingmaster
Gadget:
Bulletproof Camera
Impact Grenade
Biography
Name:
Arinya (Rin) Tangtrongchit (
อารินยา ตราตรงจิต
)
Date of birth:
31 July (Age 27)
Place of birth:
Bangkok, Thailand
Background
Arinya (Rin) Tangtrongchit, codenamed Rose, is an experienced front-line officer with the Naresuan 261 unit of the Royal Thai Police.
She joined the Royal Thai Armed Forces officer cadet programme at the age of 21, where she underwent paramilitary training similar to the army with an additional interest in crowd control, due to her past experience with protests that hit close to home. With a interest in serving public-facing roles, she was heavily involved in front-line crowd control operations during her service.
After graduating from the Armed Forces Academies Preparatory School, she was posted for training at the Police Academy, where she underwent initial training with the Royal Thai Police. She was then assigned to join the Naresuan 261 Special Operations Unit, alongside her own brother.
Throughout her deployments, her consistent ability to remain calm and analytical even in the most dangerous situations caught the attention of her commanding officers, and Rin was invited to join Team Rainbow in their operation against an international smuggling ring.
Psychological Report
Rin is a resilient, strong, and positive operator. Her career has been heavily influenced by her early years and by her family. Faced by the prevalent culture of families preferring sons over their daughters, and with her feeling that her mother favours her brother and neglects her, she joined the military to prove herself to be just as strong and independent as her brother, as well as to serve the country's people better than she was treated.
While she feels some jealousy about her brother being favoured over her, she does not hold any animosity. With her father having passed away when she was young, she looks up to her brother as a central figure, and recognises how tough it is to be the head of the family. It would be interesting to see how well she is able to integrate with the rest of the team, especially when working against her brother, Beam.
Elite Set
Rose's elite set, with her Cadet uniform, is a reminder of her days in the Police Academy, where she solidified her expertise in front-line crowd control.
Gallery
Voice lines
Art, concepts, and renders
Key assets
The Gallery
Visit the gallery for more artwork!
Visit the Gallery